If you're at all a fan of Disneyland, Walt's original park in Anaheim, California, this new DVD set is a must have for Christmas. "Disneyland: Secrets, Stories and Magic" is now on DVD.

This 2-disc set brings to life a lot of Walt's philosophy in providing guests an experience they couldn't get anywhere else. His dedication to presenting a great show and treating guests like royalty encouraged repeat visits. Something about the nostalgia, sights and even smells of Main Street U.S.A., for instance, still conjures up a time when innocence reigned. Certainly, Walt's version of 1900s Main Street was cleaned up a lot from the real deal. But that sanitized view of early 20th Century America suits almost anyone who enters Disneyland, even in the 21st Century. Disneyland, with its themed lands, encourages guests to escape reality and pretend they're somewhere fantastic. And what a fantastic place Disneyland has been, and will hopefully always be.

These DVDs are splendid time capsules of Walt's dreamland. The park's opening year, 1955, looks a lot different now. Through footage of those early days, a cynic might find the park sparse and somewhat tame compared to today's standards. To me, looking at Disneyland back then, the park is no less magical. I'm sure my rose colored glasses of Disneyland during the 1970s & 1980s might seem quaint today.

Walt had an incredible knack for developing something new and something grand. He did it with animation and his feature films. Disneyland represents his imagination firing on all cylinders. It also represents Walt's timing in bringing the public something they may have not known they wanted.


The centerpiece of the DVDs is "Disneyland: Secrets, Stories & Magic." Modern day interviews are mixed with some (perhaps) never-before-seen footage of Walt and the creation of Disneyland. This is a beautifully constructed film. Although the park was Walt's vision and passion, it couldn't have been done without many of the fine people who helped bring it to life. It's admirable that the filmmakers sought out people like Buzz Price, Marty Sklar, Tony Baxter, Ron Dominguez, Dick Nunis, Jack Lindquist, the late Bruce Gordon, and X Atencio for interviews. This is just to name a few of the on-screen interviews. They provide a look into what brought the park to life, and what has kept its "magic" going all these years. The film doesn't quite include everyone who worked on the park, or at the park (that would be impossible with the thousands of cast members who've worked there.) Yet, it does a respectable job in highlighting some of the people who made Disneyland so special (though it omits highlighting Peter and Harrison Ellenshaw's tremendous contributions to the park's attractions.)

Those who visit most of Disney's theme parks today may not realize what a novel concept Disneyland was in 1955. With the exception of the early 20th Century version of New York's Coney Island, and the Tivoli Gardens (of which some of Disney borrowed some ideas from), amusement parks were tawdry and unorganized places. "Secrets, Stories & Magic" film shows Walt's attention to giving visitors (guests) something they've never seen before. It also shows how guests to the parks could almost claim the park as their own.

The footage in "Secrets" shows how much the park has changed and grown, but it also shows how much has remained the same. True to Walt's mantra of the park changing, we see footage of the short-lived Holidayland, which was nothing more than a picnic area. It's interesting to hear the Imagineers talk about attractions that people miss, like the Flying Saucers in Tomorrowland. As much as Walt wanted Disneyland to change and grow, isn't it interesting how many Disneyland guests like certain attractions to stay the same or remain standing? Through these discs, we're able to take glimpses at never built attractions like Discovery Bay (one of my favorites). Disneyland always intrigued my interest in new attractions. Imagineers were heroes of mine, and I can recall being excited seeing the plans for the next major attraction. This film neatly puts some of them in perspective.

The additional programs on the disc set are worth watching. Included is the program where Walt introduces his audience to his company's work on attractions for the 1964 New York World's Fair. It was the last real grand fair, an early-1960s optimistic view of the future. What better company to create attractions for it than Disney? The site still stands, though only a few of the buildings remain, and the Unisphere still stands in Flushing Meadows. During a visit to the old site in 2003, I could only imagine the excitement that not only Disney's attractions created, but the fair as a whole. Luckily, the Disneyland park in Anaheim still has the attractions Disney built for the Fair, including Great Moments With Mr. Lincoln, it's a small world and parts of the Magic Skyway attraction. The Carousel of Progress made its home in Disneyland, but was later moved to Walt Disney World.



The CinemaScope film, "People and Places: Disneyland U.S.A." (1956) provides a tour of the Magic Kingdom. Director Hamilton Luske opens the film with a long and revealing helicopter shot of the park. The entire film plays like a "True-Life Adventure" with narrator Winston Hibler, and that's a good thing. The program entertains. It's also interesting to see some of the cast members smoking cigarettes and pipes! This is not a call for Disney censorship. It just shows how much times have changed, and I'm glad these little things are shown.

I have friends and family who live back on the East Coast. Whether or not if they've visited Disneyland in California, there is an air of superiority that Walt Disney World and its theme parks trump the original. This often brings on casual and light-hearted conversations about which is better. I've been lucky enough to have visited WDW and Disneyland Paris. Each of the parks in those locations have their own charms. I love EPCOT, and I the park in France is gorgeous. It would take a book to go into detail of why I love the original park so much. Simply, Disneyland is still the original and most magical of the parks. The layout is more intimate and still has that "Walt" touch. The park feels like home.

Critics of Disneyland contend that Disney homogenized everything from how the west was "won," to using different castle motifs to create Sleeping Beauty's Castle. None of this, they say, deals with reality. But they're missing the point and being much too cynical. The park is fantasy and it is a playground for the imagination. That's why Disneyland worked back in 1955, and works today. There's footage of grandparents and very young children enjoying a parade in one of Disney's TV specials featured on the DVD. You go to Disneyland today and see the same exact thing happening. Walt had it right with his concept of a theme park for families. Children of all ages could enjoy his park. So if Disney's idea of America and fantasy is homogenized, then so be it.

Before Annual Passes became a mainstay, Disneyland was usually a once-a-year treat for my family while I growing up in Southern California. The cost of the park, though reasonable for a family, still added up. The concept of buying ticket booklets with "A-E" tickets made one frugal in choosing which attractions to go on. My family's annual pilgrimage to go the park would start first thing on a Saturday morning, and not finish until the park closed. My mom would usually make me wear my reasonably nice clothes, even though we'd be running around the Magic Kingdom, sweating in the summer sun. None of this mattered, because we were at the Happiest Place On Earth.

For me, Disneyland represented every possible emotion a person could muster. Fear. Joy. Laughter. Romance. My mom loves to regale stories of me, at the age of three, screaming in terror at the sight of Eeyore. The Haunted Mansion always terrified me, though the spirit of the attraction is whimsical. When Space Mountain opened in 1977, we went there on the second day it was opened (at least that's how I remember it). We waited in line for almost 4 hours, starting at the end of Main Street U.S.A. Once we got to the former giant window that peered into the attraction, I freaked. I saw the exit and told my mom I had to go to the bathroom. She gave me her stern look. "No. We're going on this ride." My fears lifted once I got off the rocket through space. I loved it. Once I entered my formidable teen and early adult years, I was such the clever guy and loved to take my girlfriends on "Adventures Through Inner Space" to sneak a kiss. I never realized that there might be hidden cameras watching.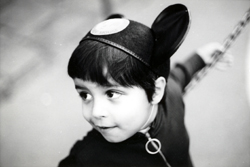 In 1985, I got a job working at the park, and I couldn't have been more thrilled. It was my first job and I was put on a hamburger-making assembly line at one of the park's fast food restaurants. My point-of-view of Disney magic soon gave way to reality, to be honest. This was my glimpse into the Eisner era of Disney and the park. My image had changed a quite a bit. Yet looking back on my experience of the Disney magic that's within Disneyland, I'm glad I was a part of it. I'm glad I was once a "cast member."

This DVD set isn't just a historical time capsule, but a link to most of us who love the park. If you can't make it to Walt's original Magic Kingdom, "Secret, Stories & Magic" will make you want to go again and visit.

Photos: © Disney. All rights reserved.
Disneyland photos: © Bill Kallay. All rights reserved. Bottom photo: Billy, circa 1972.

DVD
Quick Glimpse


MOVIE
If you grew up going to Disneyland, this is well worth a visit on DVD

TALENT
Directors: Various

Cast: Walt Disney, Tony Baxter, Marty Sklar, Rolly Crump, X Atencio, Leonard Maltin and more

FEATURES
Behind-the-scenes of the park that started it all

CinemaScope "People and Places: Disneyland U.S.A."

RATING
Not rated

DVD
Picture: Excellent
Sound: Excellent

GEEK OUT
Surprising footage of Disneyland's construction

Anaheim looked a lot different when the park was built!

Disneyland geeks will watch this DVD over and over again

TECH SPECS
Aspect Ratio (1.33:1 and 2.35:1)

Dolby Digital 5.1 and 2.0

DVD RELEASE DATE
December 11, 2007