Related Articles:
More Articles by Rick Mitchell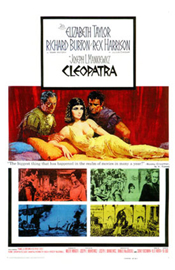 The 1963 version of "Cleopatra" is still the most expensive western hemisphere film ever made when adjusted for inflation, and that and the behind-the-camera stories related to its production still make it the butt of jokes about filmmaking excesses. These issues were factors in reviews of the film when it finally premiered. But no one has really seen it since then. Aside from a possible screening at Bradford, England, the last known 70mm presentation was a fading print at the Egyptian Theater in Hollywood in the early Seventies. 35mm prints of varying length and quality have occasionally played at various venues, including one earlier this year at the Los Angeles County Museum of Art. 16mm anamorphic prints of the 189 minute general release version were available for rental from Films Incorporated, some of which may have found their way into the libraries of film collectors, but otherwise most viewings of the film have been via video from various sources. And, as a recent screening proved, "Cleopatra" is a film that needs to be seen on the big screen, ideally from a 70mm print.
The announcement that "Cleopatra" was to be included in this yearıs "Great To Be Nominated" program at the Academy of Motion Picture Arts and Sciences stirred interest among local Wide Screen and 70mm buffs as to what kind of print would be shown, as Schawn Belston of 20th Century Fox is the only studio preservationist who had been given a mandate to restore and strike new prints of all the studio's Wide Film productions.* The announcement that a new 70mm print would be shown had a lot of people salivating and those who attended the screening were well rewarded, for the new print was stunning, possibly even looking better than original prints when one allows for improvement in print stocks over forty years. A representative of Fotokem Laboratories, which struck the print, said the negative was in perfect shape.
"Cleopatra" in 70mm is perfect verification of my recent comments about the potential benefits of reviving 65mm for production. Unlike in "South Pacific," Shamroy used shorter focal length lenses for many of the film's full shots. Thus, not only do you feel that you are in the huge sets with the characters, you see details that would be lost in even the most high end home HD system, including Ms. Taylor's throat and vaccination scars, for which no attempt was made to hide with makeup. And in the mob scenes, most notably the famous entry into Rome, details in the faces of the literal cast of thousands are quite visible.

Chace Productions has also done a superb job of translating the original six track dub to the DTS Special Venue format now used for 70mm presentations. I don't know if the production recording of "Cleopatra" was done multi-channel, Fox was the only studio to record that way until the early Sixties, but voices and effects are placed with their on screen source with little obvious panning except where the source moves across a cut. And Alex North's score is presented in its full dynamic range. (Unfortunately the Academy chose to leave the curtains open during the overture, en'tracte, and walkout resulting in that music sounding too loud and shrill since, as those moments were normally played with curtains closed, they were dubbed with a higher volume and accentuation of the highs to punch through the heavy material.

As a reasonably literate costume spectacle, "Cleopatra" is also the quintessential example of the Fifties-Sixties roadshow film. In the United States, the practice of roadshowing a film, presenting it as if it was a major stage production in a large theater at higher admission prices, with reserved seats, two shows a day, etc., goes back to Adolph Zukor's presentation of "Queen Elizabeth" with Sarah Bernhardt in 1912. Over the next 40 years it was frequently used to open major films in New York and special unusually long films like "The Birth Of A Nation" (1915), "Ben-Hur" (1925), and "Gone With The Wind" (1939) in major cities around the country. It was a technical necessity, and a key to the promotion of Cinerama, but it was intentionally made a key component of mid-century exhibition by Michael Todd in his development of Todd-AO. By the early Sixties, adults, especially those from middle America, who were no longer regular moviegoers, did flock to roadshows, seeing them as special events, as Todd intended. The subjects had the appeal of being "high class," as they were either adaptations of popular stage shows or historical epics, often with religious overtones.
Although many are put off by its four hour three minute (minus intermission) length, "Cleopatra" actually holds up very well and the beautiful images created by production designer John De Cuir and his many associates and captured by the great Leon Shamroy, ASC keep one's eyes glued to the screen even in intimate dramatic scenes. Based on his earlier films, director Joseph L. Mankiewicz apparently preferred the deep focus approach that was in vogue when he began directing in 1946, thus most of those dramatic scenes are played in beautifully composed and lit medium to medium close two shots, editor Dorothy Spencer going to loose close-ups only when it's dramatically valid to do so.

Mankiewicz is the best known exponent of the "canned theater" school of filmmaking. Though he could rise to the cinematic occasion in films like "Five Fingers" (1952) and the unfairly underrated "No Way Out" (1950), most of his films were essentially well photographed recordings of actors delivering smart dialog. And "Cleopatra" is in many ways a photographed play. (Second unit director Andrew Marton claims Mankiewicz's original intent was to do a costume epic with no battles; Marton was brought in by Darryl F. Zanuck to punch up what action scenes had been shot.) Fortunately most of the talk is interesting, primarily of a political nature dealing with the ambitions of the various characters. And it is well played and delivered by the largely British classically trained cast. (It's a bit unnerving to recognize Carroll O'Connor as one of Caesar's assassins!)

If there is one flaw in this area, it's the star herself. While not as bad as bitchily reviewed when the film originally opened, Ms. Taylor does lack the "to the manor born" regal authority that Claudette Colbert had in De Mille's 1934 version or that Katharine Hepburn or Bette Davis in their prime might have brought to the role. Too often she comes across like a singer straining for a high note that's just out of her reach.

There is one other 65mm film on the "Great To Be Nominated" schedule, "Airport" (1970). Although Universal has been striking new prints of many of the 35mm films in its library, inquiring minds are now wondering what kind of print of that film will be shown.
---
*(For the record: including the CinemaScope 55 productions "Carousel" and "The King And I," and "My Fair Lady," to which it has some rights, 20th Century Fox has 12 wide negative films. With the pre-1986 MGM films, "Around The World In Eighty Days," and Kenneth Branagh's "Hamlet," Warner Bros. has 12 if you also count its two three panel Cinerama films. And with its acquisition of the post 1986 MGM-United Artists library, which includes "Porgy And Bess," Sony now has 9-1/2; "MacKenna's Gold" (1969) having been shot partially in 65mm and partially 35mm anamorphic. Disney has 4, plus the Technirama shot "Sleeping Beauty" has been preserved in 65mm. Similarly Universal has the Technirama shot "Spartacus" and the VistaVision shot "Vertigo" preserved in 65mm added to its two original 65mm productions. The rights of certain other films are a subject for further research.)
Rick Mitchell is a film editor, film director, and film historian. He lives in Los Angeles.
İ 2006 Rick Mitchell. All rights reserved.
IMAGES: İ 20th Century Fox All rights reserved.