Related Articles:
Restored 'Carousel' Shown In Original 2.55:1 Widescreen
By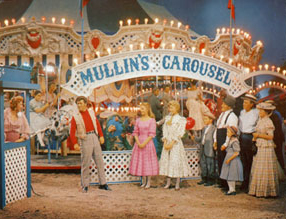 A beautiful restored 35mm print of "Carousel" (20th Century-Fox; 1956) was shown at its original 2.55:1 aspect ratio at the Academy of Motion Picture Arts and Sciences' Samuel Goldwyn Theater on Apr. 22, 2005. Unfortunately, the evening's "host," critic Stephen Farber, displayed the technical ignorance of most of the practitioners of his craft by confusing the "aspect ratio" with the "original negative format", implying that the audience would be seeing a "55mm print."

In fact, though 55mm prints were never made on either "Carousel" or its successor "The King And I," both were shown at 2.55:1 in their premiere engagements in Los Angeles and New York and in any other theatres that still showed magnetic-only CinemaScope prints at 2.55:1. The optical track cut down the width of the image, resulting in a ratio of 2.35:1. By early 1956, because some companies, notably Allied Artists and United Artists, were releasing CinemaScope pictures only with optical tracks, as well as MGM's starting to release combined "mag-optical" prints in December, 1955, a practice soon followed by Warner Bros., many first-, and especially second-run theatres had begun running all CinemaScope pictures at 2.35:1.

By mid-summer 1954, all film companies were composing their CinemaScope pictures to make certain that there was no important action on the left side of the frame that might be cut off by an optical track, and generally for better looking compositions when the films were projected at 2.35:1. However, CinemaScope 55 was intended for projection at 2.55:1 and this is obvious from how great the compositions of "Carousel" looked on the big, wide Goldwyn Theater screen. Even closeups are compositionally balanced.

Ironically, given Fox's intent in developing CinemaScope 55, sharper, higher image quality, the results were not quite satisfying as far as "Carousel" goes. (I had to miss the screening of the restored "King And I" last August but recall previous prints as having very high resolution.) Many scenes, particularly full and long shots, were not that sharp, even in exteriors shot in bright sunlight; admittedly the ASA of the film stock was very low, about 10. Though, because of the condition of the negative, the film had been put through a Digital Intermediate at 4K resolution, this was not the reason for the poorer resolution as original negative grain was detectable from third row center where Dan Sherlock and I were sitting. This also does not resolve the 4K vs. 2K issue for Digital Intermediates from anamorphic negatives. As I've mentioned before, every anamorphic film that's been put through a 2K DI that I've seen to date has looked awful.

On the other hand, the color is brilliant and vivid, perfectly capturing the look of Fox films printed by De Luxe in the Fifties, a look I remember finding more pleasing than that of Technicolor at the time. (Do I hear a disturbance in the Farce?)

As it turns out, "Carousel" did not have a particularly striking stereo dub, though there was both a six- and a four-track version, from both of which the track of this restoration was derived. Apparently there was no use of surrounds, which was actually typical of the time and the source of complaints from those exhibitors who'd put in surround speakers. Actress-dancer Susan Luckey, who played the teenage daughter of Gordon MacRae and Shirley Jones, confirmed that because of the noise of the cameras, the entire film was looped. Yet the film has a natural track especially in the scenes shot on stages. There is a surprising amount of foley, even in some of the musical numbers and the dialog has the spaciousness of production recording rather than the often hollow sound of a looping/ADR stage, though some of this may have been the result of cleaning up the track during the restoration. There is some movement of dialog between the front speakers as the characters move from one position to another. This print, like that of "The King And I," carried only a Dolby Digital track so that it could be screened at 2.55.1. Fox is currently preparing dupe negatives on both films in which the 2.55:1 frame would be reduced to fit into a 2.35/2.39/2.40:1 frame so that a stereo variable area optical track and maybe DTS time code can be added to allow the films to be shown at the proper ratio in theatres which don't have the screen width to properly show 2.55:1.

For the historical record, CinemaScope 55 was Fox's response to demonstrations of Todd-AO held on MGM's Stage 30 in the Spring of 1954. As is well known and was being constantly argued at the time, standard 35mm CinemaScope was not sharp, but then again, neither were non-anamorphic films being masked off and projected on large screens at aspect ratios as narrow/wide as 1.85:1 and even 2.00:1. This was Paramount's argument in pushing VistaVision. Although Todd-AO was conceived as a prestige roadshow format, Mike Todd's "Cinerama-out-of-one-hole", and at the time, the only way to do a 35mm general release of a Todd-AO film was to shoot a concurrent CinemaScope version (which was done only with "Oklahoma!"), it was inevitable that a method of reduction printing and speed conversion would be developed (initially filming in 65mm at two speeds, later reducing the rate from 30 to 24 fps), resulting in higher quality and resolution 35mm anamorphic prints.

Beyond a desire to be different from Todd-AO, exactly why Fox chose a width of 55.625mm is a subject for further research, especially since the same 70 and 65mm cameras from 1930 were modified for use in both processes. CinemaScope 55 kept the basically square frame, expanding it to a height of eight perfs. The original intention was to make 55mm prints with the image reduced to a height of six perfs. to allow for six tracks of magnetic sound, similar to Todd-AO's and the reason for the six track dub ("The King And I's" was only a four-track). There was some question about whether or not good 35mm reduction prints could be made, which is why the first week's work was done in both 55 and 35mm until Darryl Zanuck saw a reduction print he was satisfied with. (This situation did cost them original star Frank Sinatra.) Unfortunately, the 55mm projectors were not ready in time for "Carousel's" premiere so it was shown double system with a 35mm reduction print and the six-track dub. Because "Carousel" was not a success and Fox was having financial problems in 1956, they gave in to exhibitor entreaties for "King," which it was felt would be a hit, which turned out to be the case. It's not clear how the 35mm reduction prints were made for the general release, whether on a reduction printer or from a dupe negative.

And incidentally, "Carousel" and "The King And I" are not the first time that 2.55:1 presentations have been held at the Goldwyn Theater. In the early Eighties, a promo reel Fox had prepared for exhibitors at the end of 1953 was shown double system as part of a program on marketing. It included a clip from "The Robe" and "How To Marry A Millionaire" as well as reprints from the dailies of films in production like "King Of The Khyber Rifles," The Story Of Demetrius," and "River Of No Return." And in 1983, the "restored" "A Star Is Born" (1954) was shown using the last existing four-track magnetic print into which prints of the restored footage and stills had been edited.
---
Rick Mitchell is a film editor, film director, and film historian. He lives in Los Angeles.
© 2005 Rick Mitchell. All rights reserved