THE SCREENING ROOM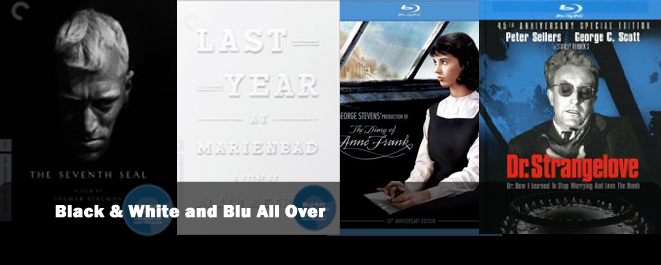 DESOWITZ ON BLU-RAY/DVD
By Bill Desowitz
Early in my journalistic career in the early '80s, I was lucky enough to meet the great Sven Nykvist to discuss black and white. He admitted that he much preferred shooting monochrome because it gave him more artistic freedom and control to paint with light and shadow. It was a terrific lesson and I've better appreciated black and white ever since. Well, with the advent of Blu-ray, black and white looks stunning in HD and it's opened up my eyes to a whole new appreciation of the format. And I've been reveling in a few recent gems: Ingmar Bergman's breakout hit, "The Seventh Seal" (1957), Alain Resnais' provocative "Last Year at Marienbad" (1961), George Stevens' sublime "The Diary of Anne Frank" (1959, road show version) and Stanley Kubrick's landmark, "Dr. Strangelove" (1964).


Although Nykvist didn't work on "The Seventh Seal," it was masterfully shot by Gunnar Fischer, despite a certain theatricality that Nykvist would later help the director break free from. The interplay of light and shadow is inspirational in this folk tale about a disillusioned knight (Max Von Sydow) trying to forestall Death with a game of chess in the hope of God helping him reach emotional closure with humanity. The film is nowhere near as dour as its reputation and is actually quite witty. The seaside setting is lovely and the HD wonderfully adds dimension by bringing the background into sharper focus, particularly the cliffs. Not surprisingly, textures are more tactile, such as the cloth in the black uniforms worn by the knight and Death, thanks to Criterion's beautiful mastering.





By contrast, "The Last Year at Marienbad," another art house classic from Criterion, has an alluring (or maddening) dreamlike quality, depending on your perspective. Resnais is brilliant at mind games, playing tricks with truth and memory and pushing narrative and structural boundaries. It was a time when discussing and arguing about films was just as stimulating as viewing them in a darkened theater. Here, in a palatial European resort, a man and woman (X and A) play romantic cat and mouse. X (Giorgio Albertazzi) insists they met a year ago and agreed to reunite, but A (Delphine Seyrig) doesn't recall any of it. Who's right? Who knows? We never find out amid the seemingly endless tracking shots and recurring images that hypnotize us in this exploration of alienation. Arguably, "Marienbad" helped usher in cinematic post-modernism. In any event, Sachy Vierny's cinematography is luscious. Details of the baroque décor and ornate gardens (how about the famous shot where only the people standing still like game pieces cast shadows?) come into much sharper focus on Blu-ray.





"The Diary of Anne Frank" may not be such an obvious stunner, but William Mellor's noteworthy cinematography lends an appropriate starkness to the somber mood. Fear during the day when the Franks, Van Daans and others hide from the terror that lurks outside; freedom to move about at night in their limited confines. How ironic. And what a tough challenge for director Stevens and his cast and crew. Incidentally, the late, great Jack Cardiff ("Black Narcissus") shot the Holland locations as POVs from the windows. The Blu-ray allows us to experience more viscerally the claustrophobia, paranoia and hope that permeate the film.
Speaking of claustrophobia and paranoia, "Dr. Strangelove" has never looked better than on Blu-ray (props to Sony's Grover Crisp for the re-mastering). As Glenn Erickson rightly points out in his review, Kubrick's visual strategy (in collaboration with production designer Ken Adam and cinematographer Gilbert Taylor) is a complex one, with changing looks, and is better understood and appreciated here. Again, all of the marvelous details come into sharper focus and we are better enveloped by the eerie mood. However, it's the iconic War Room sequences (which "Watchmen" pays homage to) that benefit the most. The architectural and cinematographic brilliance still dazzles. It's Expressionism meets Bond.

Photos: © 20th Century Fox. All rights reserved.
© Criterion. All rights reserved.
QUICK GLIMPSE
DISTRIBUTORS
"The Seventh Seal" (Criterion), "Last Year at Marienbad" (Criterion), "The Diary of Anne Frank" (Fox Home Ent.) and "Dr. Strangelove" (Sony Home Ent.)

MOVIE
---

TALENT
Director: "The Seventh Seal" Director: Ingmar Bergman

;

"Last Year at Marienbad" Director: Alain Resnais

;

"The Diary of Anne Frank" Director: George Stevens;"Dr. Strangelove" Director: Stanley Kubrick

Cast: "The Seventh Seal" Max Von Sydow

;


"Last Year at Marienbad" Giorgio Albertazzi and Delphine Seyrig
"The Diary of Anne Frank" Millie Perkins, Joseph Schildkraut, Richard Beymer, Diane Baker, Shelley Winters, Lou Jacobi, Ed Wynn




"Dr. Strangelove" Peter Sellers, Sterling Hayden, George C. Scott, Slim Pickens, Peter Bull, Keenan Wynn, James Earl Jones

FEATURES
"Bergman Island," the Marie Nyrerod-produced doc about Bergman and his life on the isolated Swedish island of Faro;
Video interview with Resnais

;

"A Son's Memories," in which George Stevens Jr. recalls his experiences working on the film and observing his father at work; A "Dr. Strangelove" doc featuring interviews with surviving cast and crew along with Robert McNamara, Spike Lee, Bob Woodward, Roger Ebert and Alexander Walker.

RATING
Unrated

BLU-RAY
Picture: Excellent
Sound: Excellent, except for "Last Year at Marienbad," which is not as pristine.

TECH SPECS
"The Seventh Seal": 1.37:1, original Swedish soundtrack is offered here in an uncompressed LPCM track.




"Last Year at Marienbad": 2.35:1, both restored and original French soundtrack, in uncompressed PCM mono.




"The Diary of Anne Frank": 2.35:1, remixed in 4.0 and 5.1 Dolby Surround




"Dr. Strangelove": 1.66:1, 5.1 remix and original mono.

BLU-RAY RELEASE DATE
June 16, 2009




June 23, 2009
About | Site Index | Contact | Terms & Conditions | Links
Custom Search