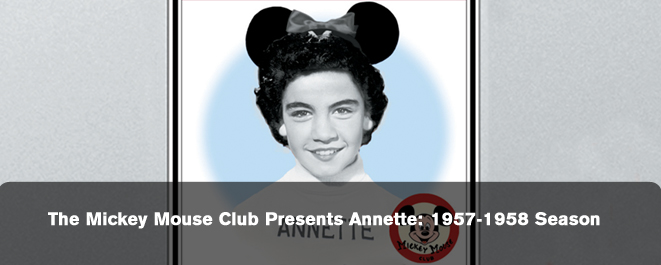 break
Long before "High School Musical," "Hannah Montana," "That's So Raven," or "Lizzie McGuire" became Disney staples, Annette Funicello was Disney's teen sensation. On her "Mickey Mouse Club" spin-off, "Annette," she dealt with teenage problems like boys, parties, shindigs, fashion, grown-ups and catty girls who made fun of her. Just watch almost any episode of the modern teen/tween girl shows, you see the same plots. Seems as though nothing has changed in the 21st century!

"The Mickey Mouse Club presents Annette: 1957-1958 Season" is now on a special "Walt Disney Treasures" DVD set.

My dad had a crush on Annette. I'm sure most boys growing up in the 1950s had their favorite girl Mouseketeer, and my dad told me over years Annette was his. He had a couple of her albums, one of which had her hit "Tall Paul." I'd play the album and couldn't figure out why he found her so appealing. She didn't have the greatest singing voice, to be honest. I'd seen her on re-runs of "The Mickey Mouse Club" during the 1970s and didn't find her to be one of the more attractive female Mouseketeers (even as a kid, I always thought that Karen was cute). But she was immensely popular, even after she'd grown up.

Seeing "Annette" from grown-up eyes, I can now see why she was popular. She wasn't the showiest of talents on either "The Mickey Mouse Club" or "Annette." Her acting and singing was good, but none of which had a lot of range. Her pretty face and everyday kid talent appealed to everyday kids. She wasn't flashy. Watch almost any teen/tween show today, the kid stars are normally glossy types. Annette was normal like the rest of us.

Walt Disney had an affection for Annette and cast her in this spin-off. He had two daughters of his own, Diane & Sharon, and probably saw some of their qualities in Annette. He might've also identified with the show's concept of a farm kid coming to the city and experiencing a different lifestyle. This show features Annette coming to stay with her uncle and aunt. She's a "country bumpkin" who's not keen on fashion or just hanging with the kids.

As silly as some of the show might seem today, it represented an idealized teenage America. Kids who enjoy "Hannah Montana" will probably take one look at the show and laugh. Word usage like "swell," and "golly" will probably illicit laughs from adults. Yet there is a charm in watching the show. The goofy innocence of kids getting together for dance parties and old-fashioned hayrides takes us back to the '50s. Though the 1950s weren't as squeaky clean as nostalgic rose colored glasses paint them, watching "Annette" gives us a fantasy world worth visiting. Wouldn't life be nice if all we had to worry about were watching steaks cook on the barbeque, or which record we were going to play?

The show did tackle problems that teens probably always had. Fitting in, petty arguments, jealousy, dealing with grown-ups, generation gaps. What teenager, no matter what generation they're from, hasn't dealt with those issues?

I remember watching actor Tim Considine on "The Adventures of Spin & Marty" in syndication. He had that '50s style hairdo and swagger, and he sounded to me like Greg Brady from "The Brady Bunch." He's present in "Annette," as well as some other '50s stalwarts. Actress Mary Wickes plays the housekeeper, Katie. Actor Richard Deacon plays Uncle Archie, the uptight uncle who Annette eventually wins over. The show is nice step back to watch these fine character actors.

The production shows the amount of quality that the Disney studio put into their regular television shows. Aside from the obvious rear-projection shots, the cinematography and lighting was nicely done. The DVD displays a nice and lovely black & white picture. The soundtrack is well rendered here.

I'm not sure if kids who like "High School Musical," as goofily modern as it is, will get the appeal of "Annette." This is really a DVD set aimed at Disney and Annette fans, and they'll be handsomely rewarded. I can dig the '50s lingo and style.

One of the most moving bonuses on the DVD is the short, "To Annette With Love." I can see why Walt adored her and was happy to share her with the public. She's presented here as herself in some interviews done in the 1980s. From what I've gathered, she's a very sweet and kind person who's humble. There's no Hollywood pretension with Annette, and that's a commendable trait to have. As you may know, she was diagnosed some years ago with Multiple Sclerosis. In her rare public appearances after being diagnosed, many people wondered what was wrong with her. Some speculated it was alcoholism. It wasn't and she's been pretty much out of the public eye for years. Through her strength and determination, she and her husband started the Annette Funicello Research Fund in 1993.

But as her husband says, she isn't looking for sympathy. One of the best ways to honor her courage and her early career is to watch "Annette."

Special thanks to Click Communications

Photos: © BVHE. All rights reserved.