Animation On DVD
A Book Review
By
William Kallay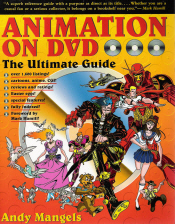 I must confess that I don't know much about Japanese animé. And to be quite honest, with the exception of Hayao Miyazaki's "Spirited Away" and "Kiki's Delivery Service," I haven't really gone out of my way to rent or buy animé on DVD. If I was a fan of animé, then I'd want to check out Andy Mangels' book, "Animation On DVD: The Ultimate Guide." The book isn't just about animé by any means. In fact, it covers a lot of ground on animated films of all types that have been released on DVD. Dig deep enough into his massive tome, you might come across such animation treasures on DVD like Miyazaki's "Princess Monoke," to mediocre kiddie cartoons like "Tom and Jerry: The Magic Ring." But until I read Mangels' book, I didn't realize how much animé was out there.
Mangels covers nearly every animated DVD release from 1997 to 2002. He has broken down titles alphabetically, and then provides the year it was released on DVD and a short description of the film itself. There is also more information about the DVD listed under each title.
He does an excellent job of cataloging titles. This facilitates for animation buffs to easily track down films that might be missing from their collection. I was able to find a number of Disney titles that I had in my own collection. This was a valuable reference in finding those titles that I wanted to replace with the newly re-mastered versions. It was also interesting to find out when some of these DVDs were released, and perhaps judge how the transfer quality varied between the two and bonus features.
As with any book of this type, time isn't on the author's side. A number of Disney, Warner Bros. and other animated films have been released on DVD since the publishing of this book. Disney, for example, has re-issued some catalog titles like "Alice In Wonderland" (1951) and "Mulan" (1998). Warners has released two multi-disc sets of "Looney Tunes" shorts, and has also has released single-disc versions with select shorts on them. But this isn't to fault Mangles. He has done a commendable job in compiling information on 1,800 animated movies!
The number of animé DVDs represented in this book is staggering. For fans of the "Sailor Moon" and "Dragon Ball Z" series, this is a good companion book to make sure your collection is in check.
In the later chapters, Mangels provides a section for "adult animation." So, for instance, if you're looking for Ralph Bakshi's "Fritz The Cat" (1972) on DVD, you have to look in this chapter. The author also provides a section for finding "Easter eggs" on your discs.
The book is a great reference guide to finding animation on DVD. It's not without some minor errors, however, like his reference to "Tron" (1982) having been "shipped to Japan, where animators hand-animated each frame of the film!" (Kodalith cels of the film were shipped to Taiwan, where they were hand-painted by artists.) But that's an exception. His book is very thorough and a must for any animation buff.
"Animation On DVD: The Ultimate Guide"
by Andy Mangels
Softcover: 571 pages
Publisher: Stone Bridge Press
2003
$24.95
---
Artwork by Christopher Taylor