THE SCREENING ROOM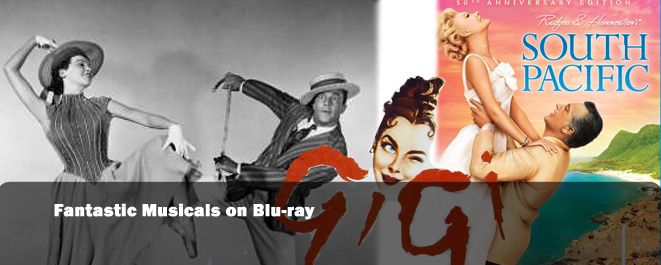 DESOWITZ ON BLU-RAY/DVD
By Bill Desowitz
Vincente Minnelli, Lerner & Loewe and Rodgers & Hammerstein go Blu! That's reason to rejoice, especially with Minnelli, the best director of Hollywood musicals. "An American in Paris" (1951) and "Gigi" (1958), both Best Picture Oscar winners, are a good place to start (though I think "Meet Me in St. Louis" and "The Band Wagon" are superior because of their emotional depth).

Anyway, the timing couldn't be better with the publication of Emanuel Levy's fine biography, "Vincente Minnelli: Hollywood's Dark Dreamer" (St. Martin's Press). Levy reminds us what critic Andrew Sarris maintained in his pantheon of auteurs: that Minnelli was much more than a superb stylist; he was a "film artist of the first rank."

Indeed, at his best, Minnelli brilliantly explored love and artistic expression (often at odds with each other). In "An American in Paris" (scripted by Alan J. Lerner, interestingly enough), Gene Kelly plays a post-World War II expatriate struggling for recognition as a painter in the world's most rapturous city. He finds a wealthy benefactor in Nina Foch and achieves recognition. However, Kelly is smitten with gamine Leslie Caron (in her film debut), his unattainable muse. How can you go wrong with the marvelous music of George Gershwin and the balletic mise-en-scene of Minnelli?

In fact, I experienced an OMG Blu-ray moment during the introduction of Caron ("Embraceable You") when foreground and background are so sharp that it virtually looks like 3-D! The entire movie is an orgasm of Technicolor and set design and a revelation in HD, which helps compensate for the emotional detachment I still experience every time I watch the film.

A similar chilliness underlies "Gigi," but that's the whole point, as Louis Jordan's wealthy playboy tries to overcome his middle-aged boredom and approach life with the charm and wisdom of Maurice Chevalier (it's 1900, after all). No matter, with the help of Lerner & Loewe's memorable songs and Minnelli's CinemaScope tribute to Paris (also a revelation in HD, filled with visual subtleties, such as the various shades of red and the auburn loveliness of "I Remember it Well," and in Metrocolor, no less), Jordan's May-December romance with Caron is somewhat more convincing. But Chevalier steals the show with his naughty charm.

As for "South Pacific" (1958), while it's lesser Rodgers & Hammerstein, this is a full digital restoration by Fox (supervised by preservation chief Schawn Belston) that looks spectacular on Blu-ray in all its Todd-AO glory. Fortunately, the memorable songs and HD eye candy make the turgid love story between French planter Rossano Brazzi and Naval nurse Mitzi Gaynor a lot more watchable. The location scenes on the Hawaiian island of Kauai are fittingly gorgeous. Even Josh Logan's distracting and far too obvious use of color filters is a bit more tolerable now that the fading has been corrected. (As DVD Savant, Glenn Erickson, points out, though, this experiment makes sense for the dreamy "Bali Ha'i," but not for the other sequences.)

So enjoy the Blu fun as we await even greater pleasures from Minnelli, Lerner & Loewe and Rodgers & Hammerstein.



Photos: © Warner Bros./Fox All rights reserved.



QUICK GLIMPSE
MOVIE
---

TALENT
Director: "An American in Paris" Vincente Minnelli
"Gigi" Vincente Minnelli
"South Pacific" Joshua Logan

Cast: "An American in Paris" Gene Kelly, Leslie Caron, Nina Foch, Oscar Levant
"Gigi" Louis Jordan, Leslie Caron, Maurice Chevalier, Hermoine Gingold, Eva Gabor and Isabel Jeans
"South Pacific" Rossano Brazzi, Mitzi Gaynor, Ray Walston, Juanita Hall

FEATURES
A 45-minute making-of doc on "An American in Paris"
A rare 1949 French version of "Gigi," which is remarkably similar to the musical
The longer (by 15 minutes), 70mm roadshow version of "South Pacific"

RATING
Not rated

BLU-RAY
Picture: Excellent
Sound: Excellent

TECH SPECS
Aspect Ratio (1.33:1), (2.40:1) and (2.20:1) respecitively

"An American in Paris" Dolby mono
"Gigi" Dolby TrueHD and Dolby Digital 5.1
"South Pacific" DTS-MA 5.1

BLU-RAY RELEASE DATE
March 31, 2009
About | Site Index | Contact | Terms & Conditions | Links
Custom Search