Related Articles:
Impressions Of Seeing "Sharkboy And Lavagirl"
By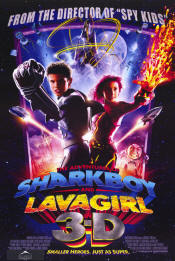 Robert Rodriguez and Steven Soderbergh remain the two most interesting younger directors working today. A true auteur, not surprising when you consider that like Soderbergh and Spielberg and Carpenter before him, he began making films performing all the key creative functions himself, Rodriguez has chosen to work almost exclusively in genre, straddling the mainstream and arthouse line, while using his interest in both film and comic books to become probably the most visually stylistic director since William Cameron Menzies.

It is really not that unusual for him to go from the controversial but visual striking "Sin City" to the little kid friendly "The Adventures Of Shark Boy And Lava Girl," drawn from stories made up by his six-year-old son. What is interesting is that this film has all the fun and excitement that was in the first two "Star Wars" films, but disappointingly missing from the last four. And though its main characters are ten-years-old, it's really about as much a kiddie film as a Warner Bros. cartoon short or traditional
Disney cartoon feature. Except for the "life lessons" messages spotted throughout, the dialog is quite witty, and even those, as well as other scenes, are tempered by visual comedic asides, looks, and bits of business, some of which are likely to go past a kid, but an older audience, should they
condescend to see it, would appreciate. (Tragically, apparently older audiences aren't this time.)

"Shark Boy And Lava Girl" succeeds in making the fantasy real the way Robert Zemeckis failed in "The Polar Express" because you do have real people interacting in these "unreal" settings. And though Rodriguez is apparently as pixelated as George Lucas, both know how to shoot for presentation on the BIG theater screen. Thus, even the non-CGI scenes look good. And Rodriguez is
smart enough to recognize the effectiveness of fight scenes shot full so that you can tell what's going on, as well as appreciate the stuntpersons' moves.

As for the anaglyph 3-D, I agree with Ray Zone (author, "3-D Filmmakers: Conversations With Creators Of Stereoscopic Motion Pictures") that it's probably the best use of that much maligned but more commercially viable process to date, the only problem being the light loss from the glasses. All of the compositions in depth worked and I didn't even have my usual problems with objects"comin' at me" that I usually have, even with Polaroid, due to problems with my eyes (for those who don't know, Raoul Walsh has his eye patch back). And though there are plenty of those kinds of shots, they are not as obnoxiously annoying as in earlier 3-D films, plus Rodriguez is able to use his contemporary technology for the kind of compositions and moves that would be the envy of 3-D filmmakers of the past, especially those who had to use the cumbersome equipment of the Fifties. I'm insufficiently conversant with the technology to understand what he did about the color, but I didn't find it bothersome, and at the beginning there are some 3-D shots in the "real"world which also did not look that far off. It's certainly better than the dull, boring blue-gray look that far too many films are being DIed to these days. (It just hit me that there may be a pun in that; if so, it's Freudianly intentional.)

Whatever the ultimate theatrical success of "Shark Boy...," future home video success being assured, Rodriguez will probably do an older skewing 3-D film, if he isn't already. That will determine the future viability of 3-D, especially if it is used creatively, as Rodriguez does, and not annoyingly, as in the past. James Cameron has been planning several 3-D films for years, as he so announced at the Academy of Science-Fiction, Fantasy, and Horror Films' Saturn Awards last year. Soderbergh, Joe Dante, and even Zemeckis would probably use it in a way that would extend its popularity. Unfortunately Michael Bay, Rob Cohen, and/or Renny Harlin may also decide to do 3-D films and "Robot Monster" will end up looking like the greatest 3-D film ever made!
---
Rick Mitchell is a film editor, film director, and film historian. He lives in Los Angeles.
© 2005 Rick Mitchell. All rights reserved
IMAGE © Dimension Films. All rights reserved