THE SCREENING ROOM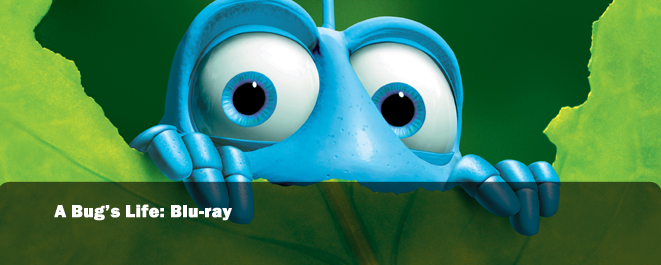 BLU-RAY REVIEW
By Bill Kallay
"A Bug's Life" is one of those neat little gems. Regarded by some critics as one of Pixar's lessor films, it's actually one of Pixar's most fun.

"A Bug's Life" is now available on Blu-ray.


In the winter of 1998, both Pixar and DreamWorks were going head-to-head on the release of two bug inspired movies. DreamWorks had "Antz," with an all-star voice cast. Pixar had "A Bug's Life," also with an all-star voice cast. Both films did very well at the box office, but it's "A Bug's Life" that is far more rich with its story and animation. Though "Antz" wasn't a bad movie by any means, it was hindered by frightful looking ants and a mediocre story. At least the characters in Pixar's venture were cuddly, even for insects.

The film is so good natured and so silly at times that it requires repeated viewings just to catch the jokes. Unlike "Toy Story" (1995) and Pixar movies that followed, "A Bug's Life" never slows down for a bit of senimentality. That's not a criticism against any Pixar film for doing that. The bug movie is just good fun.

The story takes from Akira Kurosawa's "The Seven Samurai" and John Sturge's American version of that film, "The Magnificent Seven." Those films are losely based on the Aesop fable of "The Ant and the Grasshopper." Inventor ant, Flick (Dave Foley) manages to set an adventure in motion. The colony saves food for the grasshoppers, lead by the wonderful Kevin Spacey. It's up to Flick, by some misadventures, to save the colony from Hopper.

Directors John Lasseter and Andrew Stanton, based on a story by them and the late Joe Ranft, have crafted a fast paced film. Nearly every scene is embedded with humorous action and one liners. It's clear that the filmmakers were having a good time while making this film.

"With Pixar, you know it's craftsmen behind it who are very proud of their work. They know everything about the story and what needs to be said and how it's to be said," says John Ratzenberger, who played P.T. Flea.

Every single character in the film is filled with Pixar lifeblood, meaning nearly every protagonist has a positive outlook. Flick is good natured and only means to do good, even if he's a bit clumsy at it. Dot (
Hayden Panettiere) is adorable. The circus act that helps the ants thwart Hopper and his gang is lot of fun.


The DTS-HD Master Audio soundtrack is excellent, falling in line with Pixar's high-quality soundtracks. Gary Rydstrom's sound design on this film has long been a favorite among home theater fans. Dialogue, music and sound effects on the Blu-ray come through with authority. The DVD has been a reference disc for years. The Blu-ray improves upon it in every way.

The Blu-ray picture quality is also excellent. The film's digital master comes through on the Blu-ray with vibrant color fidelity and clairity. Detail is amazing as textures of the characters faces, for instance, are seen. I don't recall seeing that much detail on the much appreciated DVD.

Movies like "Monster's, Inc." and "Finding Nemo" have probably replaced "A Bug's Life" as a repeat viewer over the years, which is a shame. The Blu-ray, with its sharp images, should help audiences rediscover this fine little epic.


Special thanks to Click Communications

Photos: © BVHE. All rights reserved.
QUICK GLIMPSE
MOVIE
Great Pixar fun

TALENT
Directors: John Lasseter & Andrew Stanton

Cast: Dave Foley, Kevin Spacey, Julia Louis-Dreyfus, Hayden Panettiere, John Ratzenberger

FEATURES
Most features same as the DVD from a few years ago, but added bonus of Pixar look back on "A Bug's Life"

RATING
G

BLU-RAY
Picture: Excellent
Sound: Excellent

TECH SPECS
Aspect Ratio (2.39:1)





BLU-RAY RELEASE DATE
May 19, 2009
About | Site Index | Contact | Terms & Conditions | Links
Custom Search