THE SCREENING ROOM

A year-by-year, film-by-film history of 70-millimeter wide gauge exhibition in Southern California

Compiled by Michael Coate and William Kallay
---
70mm Equipped Theatre Pictures
LA HABRA
La Habra sits on the edge of Orange County, right next to Los Angeles County. For a lot of Orange County residents, La Habra is often mistaken for not being a part of their region, but it is.

Theatre builder, Robert Lippert, converted a building which had been constructed in 1949 into a modern movie theatre. By 1956, he had turned the one-time multi-use building into a 70mm-capable theater with 1200-seats. This was possibly the first 70mm-capable theatre in Orange County. Box Office magazine ran a couple of articles about the the theatre.

Initially, it was stated that the theatre was going to be equipped for 70mm projection. By the time the La Habra opened, an article in the March 2, 1957 issue of Box Office stated that the theatre's 50-foot screen "will accomodate all types of pictures including Todd-AO." It then states the theatre had four-track stereophonic sound. So it's possible the theatre was only equipped for 35mm four-track sound.

Even though the theatre seems to have been operated for a number of years, it seemed to appear in newspaper ads as a run of the mill local theater, rather than a potential 70mm house. It was eventually twinned and demolished.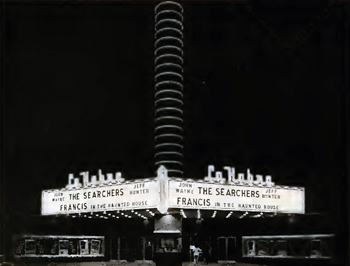 The La Habra's beautiful marquee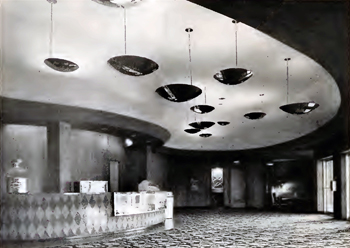 The lobby and snack bar