Related Articles:
A year-by-year, film-by-film history of 70-millimeter wide gauge exhibition in Orange County, California
Compiled by Michael Coate and William Kallay
---
70mm Equipped Theatre Pictures
Fullerton Town Center / Fullerton 8
Theatre Specifications
Chain: AMC
Opened: December 18, 1987
During the Christmas season of 1987, AMC opened up the Fullerton 8 theatres on Lemon Street. The theatre itself wasn't anything special, but it was part of AMC's expansion of nice theatre complexes in Southern California. That same year, they opened the Century City 14, Plaza 10 in Puente Hills, Santa Ana's MainPlace and the Victor Valley 10.
No local advertisements for the grand opening of the Fullerton 8 indicated that it was equipped for 70mm. But according to Dolby Laboratories' Dolby Stereo Equipped Theatres booklet record, two screens at the Fullerton 8 were indeed 70mm-equipped and, surprisingly, those screens had Dolby "split-surround" eqquipped. No known 70mm presentations played there, perhaps because MainPlace seemed to be AMC's main 70mm house in Orange County. The biggest auditoriums weren't very large, especially compared to those at the MainPlace, a short drive away. In fact, most of the auditoriums were quite small.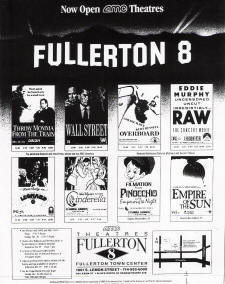 [1]
AMC Fullerton Town Center opening day ad (December 18, 1987) [Enlarge]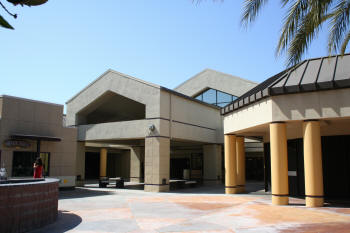 [2]
AMC Fullerton Town Center (2005)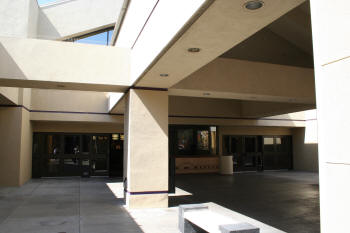 [2]
Former Fullerton Town Center box office and lobby entrance (center) — The box office is now located behind camera position, and ten more auditoriums with stadium seating have been added to the complex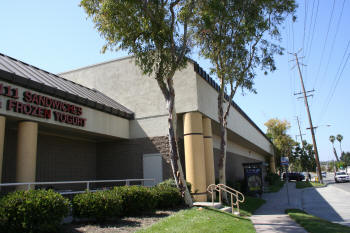 [2]
Side of Fullerton Town Center facing Lemon Street (right)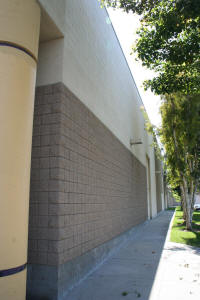 [2]
Back of Fullerton Town Center
---
[1] The Orange County Register / AMC
[2] William Kallay
---
Search 70mm Engagements By Year
Back To 70mm In Orange County Main Page
Back To Theatre & Photo Gallery