Related Articles:
A year-by-year, film-by-film history of 70-millimeter wide gauge exhibition in Orange County, California
Compiled by Michael Coate and William Kallay
---
70mm Equipped Theatre Pictures
Fountain Valley Drive-In
Theatre Specifications
Chain: Pacific
Opened: July 12, 1967
Closed: N/A — Demolished
One of the biggest surprises we found during our research on this project was finding a 70mm-equipped drive-in located in Fountain Valley on Brookhurst Avenue. Pacific Theatres, a major Southern California chain, opened the Fountain Valley Drive-In during the late-1960s. The chain apparently spared no expense on this location, as moviegoers drove past a water fountain feature while entering the theatre grounds, which covered 20-acres. The screen was large and curved [90ft. x 140 ft.], and according to Independent Film Journal (3-30-68), the drive-in was "equipped to show all [film] sizes 35mm to Cinerama." [Source: http://members.tripod.com/socaldriveins/fvalley.htm]. The snack bar covered 20,000 square-feet of space, while the projection booth had Simplex 35/70mm projectors.
However, there is no record, thus far in our research, of any 70mm engagements at this theatre. The drive-in has been demolished.

[1]
Fountain Valley Drive-In opened on July 12, 1967 [Enlarge]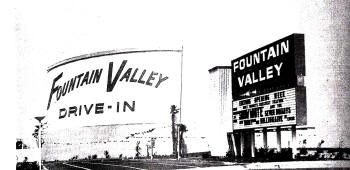 [2]
Your eyes aren't deceiving you...this is an actual copy of a photo of the drive-in grand opening week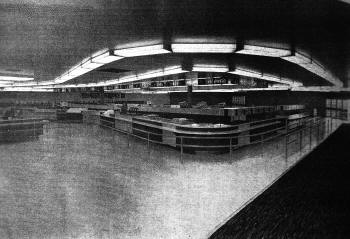 [2]
The curvaceous snack bar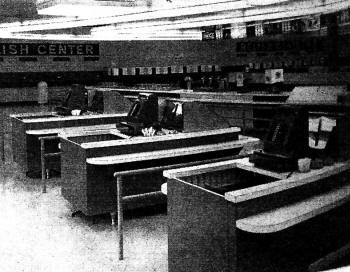 [2]
Efficient service lines and "relish" centers in the back of the picture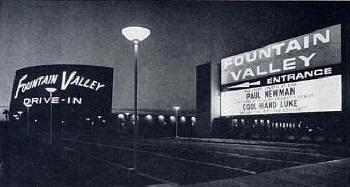 [3]
The drive-in could hold 2000 cars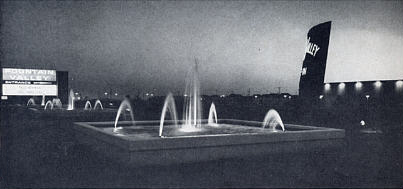 [3]
Nice fountain feature at the entrance
---
[1] Anaheim Bulletin / Pacific Theatres
[2] Boxoffice -- August 16, 1967
[3] Motion Picture Herald--July 17, 1968
---
Search 70mm Engagements By Year
Back To 70mm In Orange County Main Page
Back To Theatre & Photo Gallery