THE SCREENING ROOM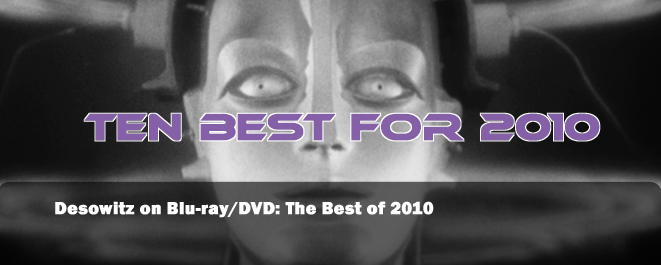 DESOWITZ ON BLU-RAY/DVD
By Bill Desowitz
It was a great year for Blu-ray in 2010, with a lot more releases and greater diversity of films. And it became even more evident how immersive the 1080p experience is at home. With greater resolution, sharpness, color saturation, highlight and shadow detail, it's like watching these films for the first time, and the DTS-HD Master Audio 5.1 sound only enhances the experience. Who needs 3-D? There were so many wonderful pleasures, it's hard to narrow it to 10, but here goes:
1. Avatar Extended Collector's Edition (Fox Home Ent.)
It's no surprise that last year's game-changer from James Cameron translates into this year's reference quality Blu-ray event as well. Avatar was made for Blu and not only because it's the color of Pandora. The sci-fi epic looks and sounds spectacular on the home system, and the extended collector's edition offers three different versions of the film, including the extended cut with 16 additional minutes. I prefer the theatrical version, but it's nice to see the Sturmbeest hunt and the school house sequences. And the DTS-HD Master Audio 5.1 can't be beat for a modern presentation.
2. Apocalypse Now (Lionsgate Home Ent.)
Francis Ford Coppola's trippy Vietnam tour de force from '79 makes a fitting corollary to Avatar, given its psychedelic jungle journey into "the heart of darkness." How ironic that both landmarks are available at the same time on Blu-ray. And like the Avatar set, there are multiple versions of Apocalypse Now to enjoy: the theatrical cut and the Redux version from 2000 (color timed to match the revamped Technicolor dye transfer process). Again, I prefer the theatrical version, but it's instructive to view the French plantation sequence, in particular, even though it stops the movie cold right before Willard's confrontation with Kurtz. Happily, the Blu-ray presents the film in its original aspect ratio of 2.35:1, despite Vittorio Storaro's current preference for 2:1. Picture and sound are both stunning, reference quality. For instance, the hazy, surreal opening pulls us in just as it during the first theatrical run (for me it was at the Cinerama Dome). Meanwhile, the shadowy scenes at the end with Brando's Kurtz are even darker and richer. And the thunderous DTS-HD Master Audio 5.1 is perhaps the best surround ever achieved for the home theater experience, showing off Walter Murch's masterful design and coming as close to Sensurround as Coppola was able to achieve without getting Universal's approval to license the process.
3. Metropolis (Kino/Eureka)
The long-awaited complete version of Fritz Lang's 1927 masterpiece was one of the year's highlights. I got my copy from Eureka (Region 2: both are taken from the same source but Eureka offers a higher bitrate and original German inter-title cards). Regardless, Lang's dystopian sci-fi gem (anticipating Hitler's Nazi Germany with society split between poor workers underground and the wealthy basking in futuristic luxury) has never looked or sounded better (you'll enjoy the DTS-HD Master Audio 5.1 or LPCM 2.0 featuring Gottfried Huppertz's 1927 score conducted by Frank Strobel and performed by the Rundfunk Symphony Orechestra. The reconstruction/restoration of Metropolis was a collaboration between the Friedrich-Wilhelm-Murnau Foundation, the Deutsche Kinemathek, and the Museo del Cine in Buenos Aires (where an uncut 16mm safety reduction negative taken from an extremely damaged 35mm print was discovered), resulting in the addition of 25 minutes of footage discarded after the Berlin premiere. However, while there is much greater narrative clarity, be forewarned that the new footage is very rough and a far cry from the rest of the pristine presentation. Still, it now approximates Lang's original vision, and we can now fully enjoy one of the great works of silent cinema -- the Avatar of its day with its combination of Expressionism and Art Deco.
4. The Leopard (The Criterion Collection)
Luchino Visconti's sumptuous feast from 1963 is considered The Gone with the Wind of Italian cinema and was tailor-made for Blu-ray; it's one of Criterion's wondrous offerings for 2010. Burt Lancaster (dubbed for the Italian version) plays the majestic Prince Don Fabrizio Salina, who is part of the dying aristocracy in Sicily of the 19th century, trying to hold on to the past with dignity while his world is destroyed by democratic fervor. Cinematographer Giuseppe Rotunno creates a rich visual language comprised principally of yellows, greens, blues, reds and browns. Rotunno supervised the HD digital transfer, which was created from the original 35mm 8-perf negative, with the original aspect ratio of 2.21:1. It contains an Italian LPCM 1.0 audio track. The American version, also included, is 2.35:1, with an English Dolby Digital 1.0 track.
5. The Thin Red Line (The Criterion Collection)
This is another stellar Criterion offering -- reference quality, to be sure. Some might prefer Terrence Malick's Days of Heaven, which Criterion also released this year, but in terms of sheer aesthetic beauty, this is a far richer experience. Adapted from the James Jones novel about lost souls in Guadalcanal in 1943, Malick turned it into his ultimate statement about man and nature and the search for spirituality back in '99. That is, until we see The Tree of Life this year. The tropical splendor, man's inhumanity to man, the soldier's speaking as one voice, coming to terms with death and transcendence, The Thin Red Line is difficult to discern yet intoxicating to experience. John Toll's cinematography -- particularly the reds and greens -- are hyper-real. The Blu-ray has a 3-D-like quality that is hard to match. Indeed, Malick and Toll supervised the transfer from the original 35mm camera negative, with an aspect ratio of 2.34:1. The soundtrack has been remastered the original 6-track magnetic audio and the DTS-HD Master Audio 5.1is awe-inspiring as well.
6. Doctor Zhivago (Warner Home Video)
One of the best restorations of the year makes this 1965 crowd-pleaser a beauty to behold on Blu-ray. David Lean's visually poetic adaptation of Boris Pasternack's Nobel Prize-winning novel about the obliteration of love and individuality during the Russian Revolution is a delicate balancing act between intimate and epic filmmaking. Lean wasn't allowed to shoot in 65mm and 70mm blow up prints never did Freddie Young's Oscar-winning cinematography justice (an uncredited Nicolas Roeg shot the early funeral and some other scenes). However, the Blu-ray makes the film look breathtaking, thanks to Warner Bros. Motion Picture Imaging. Reds and yellows really pop. Think of the sunflowers and wheat fields and Julie Christie's red dress. And, of course, her blue eyes have never been bluer. Also, the use of purple throughout is a bold statement. For color reference, they used Lean's personal print, a dye transfer by Technicolor in the UK. And the DTS-HD Master Audio 5.1 makes Maurice Jarre's remarkable score come alive, especially the essential balalaika.
7. The African Queen (Paramount Home Ent.)
Another great Warner Bros. MPI restoration brought color back to The African Queen, the beloved 1951 John Huston romantic adventure shot in Technicolor by the legendary Jack Cardiff. Sharpness is a real surprise (check out the freckles on Katharine Hepburn's face and her violet dress and green hat pin). You really get a sense of the weary warrior vibe between Hepburn and Humphrey Bogart. Also, the rear projection during the action scenes on the river never looked right, but now the water looks translucent and the backgrounds come through quite nicely. Overall, it looks very warm and golden and green, whenever appropriate, per Cardiff's instructions.
8. Moulin Rouge! (Fox Home Ent.)
I've been waiting since the inception of Blu-ray for Baz Luhrmann's frenetic pop cultural mash-up (La Boheme meets "The Can Can" meets a slew of 20th century pop standards, set in Paris in 1899). And I wasn't disappointed. The kitschy, super-saturated musical looks positively radiant in Blu (with a 2.40:1 aspect ratio), and the DTS-HD Master Audio 5.1 really rocks! This time machine-like portal between the past and present is pure eye candy: from its silent cinema-style opening to the wild dance hall exuberance that's like channeling Toulouse-Lautrec while being on absinthe. Certainly the reddest of Luhrmann's "Red Curtain" films, it'll put a smile on your face if you give it a chance.
9. Inception (Warner Home Video)
Speaking of Inception, the great theatrical experience of 2010 translates to one of the best reference quality Blu-ray experiences as well. If anything, Chris Nolan's mind-bender is even more enjoyable at home, and not because the plot becomes any clearer but because it becomes more intimate while still maintaining its thrills. Then again, I tend to have the same reaction to all of Nolan's films, whose chilliness melts away in the warmth of my home. In this case, though, the cerebral puzzle takes on greater emotional resonance while the technical pyrotechnics look sharp and almost like 3-D in HD (with an aspect ratio of 2.40:1). The DTS-HD Master Audio 5.1 also blows most everything else away with a bombastic soundscape, and makes Hans Zimmer's score seem as beguiling as ever. So watching Cobb lose control of his mind with dreams folding into reality (and vice versa) was one of the great cinematic pleasures of 2010.
10. Make Way for Tomorrow (Eureka)
It was another outstanding year for London-based Eureka. Obviously Metropolis was the standout, but there was also Murnau's City Girl, Kon Ichikawa's The Burmese Harp, and Frank Tashlin's Will Success Spoil Rock Hunter? But my favorite is Leo McCary's Depression-era drama from 1937, one of the best indictments ever about the neglect of the elderly, which just made the 2010 National Film Registry list of the Library of Congress. It not only was the director's personal favorite among his films (which include The Awful Truth, Love Affair, and its remake, An Affair to Remember), but also inspired Kurosawa's Ikiru and Ozu's Tokyo Story. Indeed, Orson Welles once told Peter Bogdanovich, "Oh, My God, that's the saddest movie ever made." Victor Moore and Beulah Bondi are forced to live with their children because he's been out of work for several years and the bank has foreclosed on their house (how timely is that?). The result is a rift between generations and love recaptured. Make Way for Tomorrow is an uncompromising work that earns its reputation as a "weepie." It's a definite step up in quality from the very fine Criterion DVD. So, if you have a region-free player, it's well worth the purchase.
About | Site Index | Contact | Terms & Conditions | Links
Custom Search